Content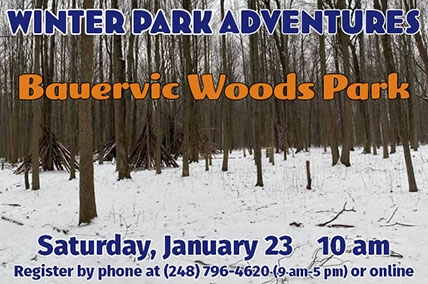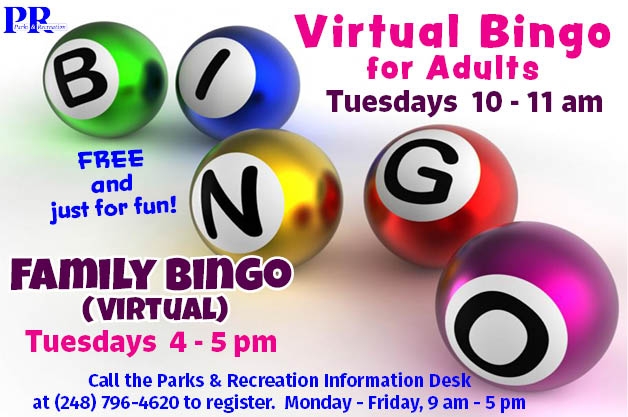 Parks & Recreation Update - Jan. 15
To help slow the spread of the COVID-19 virus in our community and in accordance with the latest orders issued by the Michigan Department of Health and Human Services:
             • The Parks and Recreation Building, the Senior Services office, Southfield Sports Arena and Beech Woods Recreation Center are closed to the public until February 1. Staff continue to work at all facilities, both on site in a limited capacity and remotely.
             • Staff at the Parks & Recreation Department Information Desk (248) 796-4620 and the Beech Woods Recreation Center (248) 796-4670 front desk will answer phones and accept registrations by phone only. During this time, our phone lines will be open Monday through Friday from 9 am-5 pm. On-line registration is available anytime of the day at https://apm.activecommunities.com/southfieldparks
            • TOSS (Transportation of Southfield Seniors) will continue to take reservations and provide transportation for medical appointments and limited grocery trips. Appointments must be made at least 48 hours in advance and riders will receive a health screening call the day prior to their appointment between 10 am and 2 pm. Masks are required for all riders and drivers, and buses are cleaned after each rider. If you have questions or would like to schedule an appointment please call (248) 796-4658. Leave your name, phone number and a short message and someone will return your call as soon as possible. If you need other transportation services please call the SMART Connector at (866) 962-5515.
            • All Southfield parks remain open to the public during this time. However, outdoor restrooms and water access at Beech Woods Park, Civic Center Park, Inglenook Park, Pebble Creek Park and the Mary Thompson House and Farm are closed for the season. When visiting a Southfield park please do your part to protect yourself and others by wearing a face mask and keeping a safe physical distance from others.
Southfield Senior Services Activities

Parks & Recreation Senior Services is committed to helping Southfield seniors get and stay active, physically and mentally, through a number of classes, monthly programs and trip opportunities. For more details on senior activities you call us at (248) 796-4650.
Senior Services Activities include:
Day Trips
All senior trips are suspended at this time. The Senior Services offices remain closed to the public at this time.

Senior Services offers many monthly trips, casino trips and other day trips throughout the area. Registration is limited for all day trips and all participants must have proper picture I.D. with them on the trip.
Flyers with further details regarding day trips and other Senior Services events are posted below in pdf format and are available in print at the Senior Services offices in the Parks & Recreation Building. Their offices open Monday through Thursday from 8:30 am-4:00 pm and Friday from 8:30 am-2:00 pm. All trips depart from the Parks & Recreation Building located at 26000 Evergreen Road, unless otherwise noted. A bus may be requested to pick up off-site if there are five or more passengers. Due to the overwhelming demand for off site pick ups we are requesting that anybody who wishes to be picked up must be signed up for the trip two weeks prior to when the trip will be leaving. If you sign up for the trip with less than two weeks until the trip, you must board the bus at the Southfield Parks & Recreation Building. We reserve the right to deny access to any applicants we deem unable to follow the trip guidelines.
Staying Active With Parks & Recreation
The City of Southfield offers a variety of programs for seniors that will help you stay active. Programs are offered at many sites throughout the city and include bounce volleyball, tennis, softball, chair exercise, golf, tai chi, water exercise, and line dancing. Programs are open to all residents (and non-residents) age 50 and over unless otherwise noted. 
For more information on specific classes, please call Senior Services at (248) 796-4650.
Senior Sports Open Play at Beech Woods Recreation Center
Play is suspended as of November 18, until further notice.
With safety as a priority, our Senior Sport Drop-in program has evolved.  
The following safety protocols are in place for all Southfield Parks & Recreation Department indoor programs or events:
    •    Participants must pre-register for all programs. No drop-ins will be taken.
    •    All instructors, staff and participants are required to properly wear a face mask at 
        all times, including during physical activity.
    •    Physical distancing from others must be maintained. Program sizes have been 
        limited to help with physical distancing.
    •    Temperature checks are required before participation. Any person with a 
        temperature above 100.4 will not be allowed entry.  
    •    All restrooms will have a limit of one person at a time with 'Occupied/Available' 
        signage posted. 
    •    No equipment will be shared among participants during a program unless 
        otherwise noted.
    •    Hand sanitizer will be available for participants' use.
    •    No spectators or non-registered individuals allowed inside the building.
    •    Participants may enter the building 10 minutes prior to class and must exit 
        immediately upon conclusion
Community Gardens at Mary Thompson Farm
The Southfield Community Garden program is available to city of Southfield residents who are 50 years of age or older. It is administered by the Parks & Recreation Department through Senior Services. Anyone interested in applying for a garden plot must fill out a Garden Plot Application and submit it to Senior Services. All requests for a garden plot must be in writing and only one request per mailing address will be accepted. Garden plots are assigned based upon their availability. Verification of residency and age is required before any garden plot is assigned.

Please direct all your garden questions and applications to Senior Services at (248) 796-4650.