Celebrate Earth Day with Recreation on the Move
Thursday, April 22 from 4- 6 pm at Inglenook Park.
Free activities suitable for ages 5 and up that celebrate Earth Day.
Inglenook Park, south side of Twelve Mile Road between Evergreen and Lahser roads
No fee and no need to register. Face masks are required.
We've had some changes to programs listed in the Spring/Summer 2021 Activity Guides since it went to print:
    •  Registrations for Summer Day Camps will begin on Monday, May 10 for Southfield residents (Monday, May 17 for non-residents)
    •  Motown Style Ballroom Dance - Parts 1, 2 & 3 are canceled
    •  Moderate Yoga will begin May 3
    •  Spanish 1 & 2 will begin May 20
    •   All Karate classes; Li'l Tots through Advanced, will begin June 15
    •  Youth Basketball Clinics will begin Tue., June 1 and Sat., June 4
    •  The Bike Safety Rodeo on May 2 has been canceled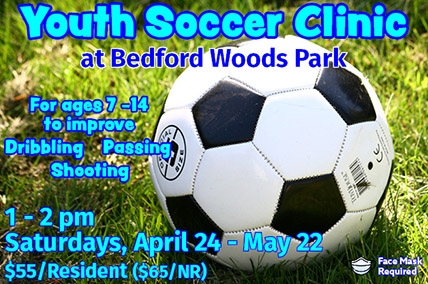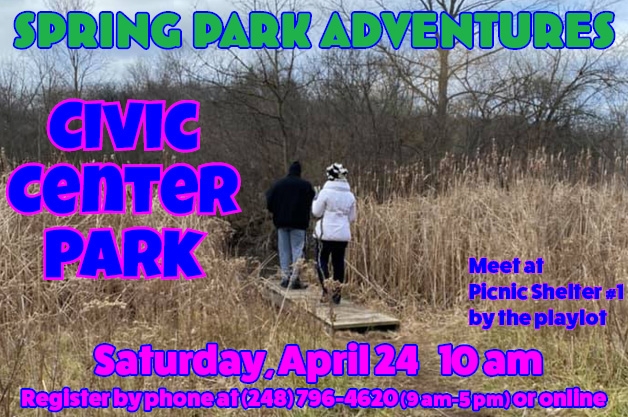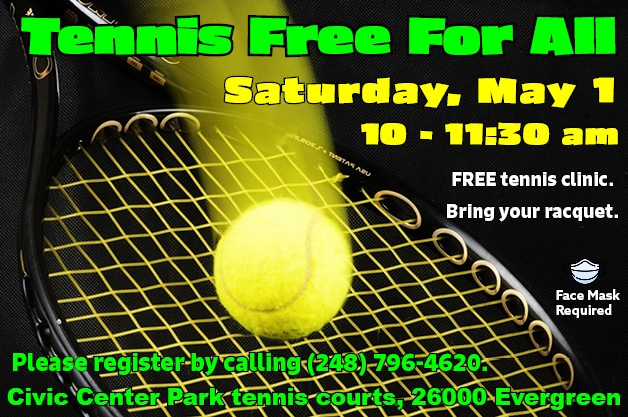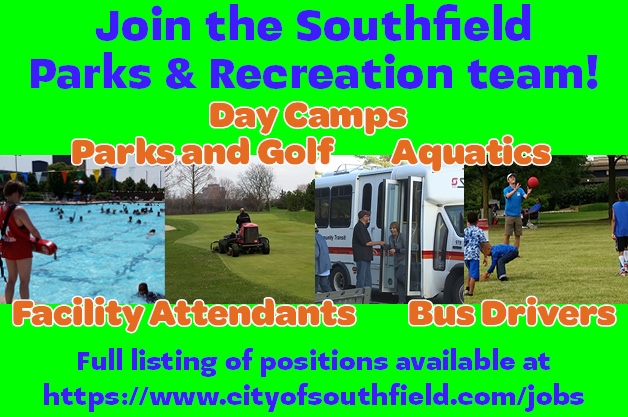 Parks & Recreation Update - April 13
To help slow the spread of the COVID-19 virus in our community and in accordance with the latest orders issued by the Michigan Department of Health and Human Services:
             • The Parks and Recreation Building, the Senior Services office, Southfield Sports Arena and Beech Woods Recreation Center are closed to the public through May 3. Staff continue to work at all facilities, both on site in a limited capacity and remotely.
             • Staff at the Parks & Recreation Department Information Desk (248) 796-4620 and the Beech Woods Recreation Center (248) 796-4670 front desk will answer phones and accept registrations by phone only. During this time, our phone lines will be open Monday through Friday from 9 am-5 pm. On-line registration is available anytime of the day at https://apm.activecommunities.com/southfieldparks/
            • TOSS (Transportation of Southfield Seniors) will continue to take reservations and provide transportation for medical appointments and limited grocery trips. Appointments must be made at least 48 hours in advance and riders will receive a health screening call the day prior to their appointment between 10 am and 2 pm. Masks are required for all riders and drivers, and buses are cleaned after each rider. If you have questions or would like to schedule an appointment please call (248) 796-4658. Leave your name, phone number and a short message and someone will return your call as soon as possible. If you need other transportation services please call the SMART Connector at (866) 962-5515.
            • All Southfield parks remain open to the public during this time. However, outdoor restrooms and water access at Beech Woods Park, Civic Center Park, Inglenook Park, Pebble Creek Park and the Mary Thompson House and Farm are closed for the season. When visiting a Southfield park please do your part to protect yourself and others by wearing a face mask and keeping a safe physical distance from others.
Winter Park Amenity Closures - Update April 9
Outdoor restrooms and water access are closed for the season through May 1, 2021 at:
• Beech Woods Park
• Civic Center Park (near the Miracle Field)
• Inglenook Park
• Pebble Creek Park
• Mary Thompson House and Farm
Portapotties have temporarily been added at Civic Center Park (near the tennis courts) and Inglenook Park (near the existing restroom). Staff will monitor and clean these facilities daily. Please stay safe and enjoy your time in the park.
The parking lot gates to the following parks are closed through May 1, 2021:
• Pebble Creek Park, access road off American Dr.
• Bedford Woods Park, Lathrup Blvd. entrance
• Freeway Park, Lincoln Drive entrance
The mission of the Southfield Parks & Recreation Department is to provide excellence and equal opportunity in leisure, cultural and recreational services to all Southfield residents. Our purpose is to provide safe, educationally challenging, convenient leisure opportunities, utilizing public open space and quality leisure facilities to enhance the quality of life for Southfield's total population that might not otherwise be available.