Content
We've had some changes to programs listed in the Spring/Summer 2021 Activity Guides since it went to print:
Registration for camps Tadpole, Wildwood and Evergreen will be done BY APPOINTMENT ONLY.
Southfield residents can call (248) 796-4620 for an appointment beginning Monday, May 10. Appointments will be made during P&R Information Desk regular hours, 9 am - 5 pm, Monday through Friday. Payment for all camp fees must be made at time of registration by credit card only.

Ceramics

postponed to June 2

Spanish I

and

Spanish II

are postponed until September

Spring Park Adventures

start time has moved to 9 am beginning May 8

Summer Wine Down Concert moved to Friday, Aug. 20 from 7-9 pm on the front lawn
Beginning Tai Chi and Tai Chi Form May 6 sessions are canceled
Bingo and Senior Social Hour all May dates are canceled
Sand Volleyball league will begin May 17 (2 weeks later). Registrations accepted through May 7.
All Karate classes; Li'l Tots through Advanced, will begin June 15
Youth Basketball Clinics will begin Tue., June 1 and Sat., June 4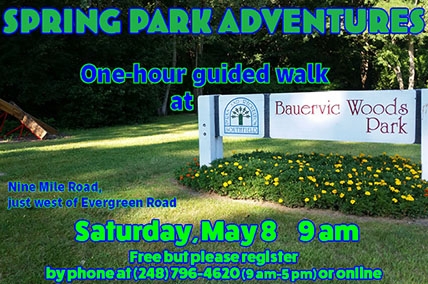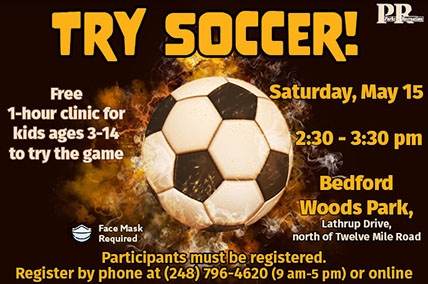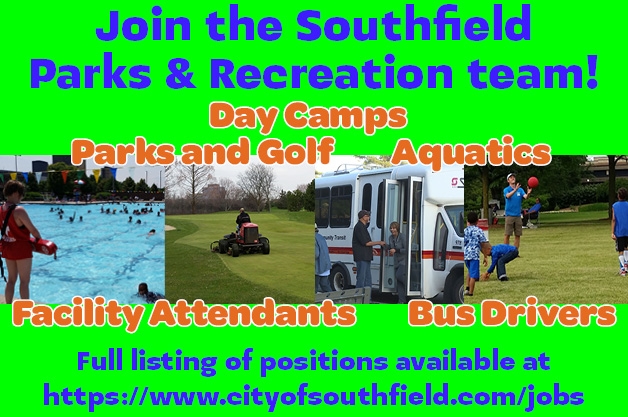 Parks & Recreation Update - April 27
To help slow the spread of the COVID-19 virus in our community and in accordance with the latest orders issued by the Michigan Department of Health and Human Services:
             • The Parks and Recreation Building, the Senior Services office, Southfield Sports Arena and Beech Woods Recreation Center are closed to the public until June 1. Staff continue to work at all facilities, both on site in a limited capacity and remotely.
             • Staff at the Parks & Recreation Department Information Desk (248) 796-4620 and the Beech Woods Recreation Center (248) 796-4670 front desk will answer phones and accept registrations by phone only. During this time, our phone lines will be open Monday through Friday from 9 am-5 pm. On-line registration is available anytime of the day at https://apm.activecommunities.com/southfieldparks/
            • TOSS (Transportation of Southfield Seniors) will continue to take reservations and provide transportation for medical appointments and limited grocery trips. Appointments must be made at least 48 hours in advance and riders will receive a health screening call the day prior to their appointment between 10 am and 2 pm. Masks are required for all riders and drivers, and buses are cleaned after each rider. If you have questions or would like to schedule an appointment please call (248) 796-4658. Leave your name, phone number and a short message and someone will return your call as soon as possible. If you need other transportation services please call the SMART Connector at (866) 962-5515.
            • All Southfield parks remain open to the public during this time. However, outdoor restrooms and water access at Beech Woods Park, Civic Center Park, Inglenook Park, Pebble Creek Park and the Mary Thompson House and Farm are closed for the season. When visiting a Southfield park please do your part to protect yourself and others by wearing a face mask and keeping a safe physical distance from others.
Southfield Residents Can Purchase Discounted Detroit Zoo Tickets
We are excited to announce that Southfield Parks & Recreation has joined the Detroit Zoo's Tickets & More Online Discount Program! You may buy specially priced tickets for the Detroit Zoo over the Internet with the added convenience of printing your tickets and then presenting them at the Zoo entrance. Purchasing tickets has never been easier!
You may purchase tickets online immediately by visiting your exclusive Detroit Zoo Tickets & More Discount Online Program ticket store in either of the following ways:
1: Click on our special Detroit Zoo link https://tickets.detroitzoo.org/affiliate.asp?ID=0F8E5784-1B1F-4FDE-8B69-108A9B125D7E This link will take you directly to our special "store" site without the need to enter a password.
2: You can also reach the site by going to https://tickets.detroitzoo.org and enter our exclusive Ticket Store User Name: Southfield parks and recreation
Please note: If you wish to visit the Polk Penguin Conservation Center, you will need to get a free, timed-entry pass. Passes are available on a first-come, first-served basis at main admissions gate only. We hope you and your family enjoy the Detroit Zoo this season! If you have any questions concerning the Detroit Zoo ticket program please call us at (248) 796-4620.