Donald F. Fracassi
COUNCILMAN
---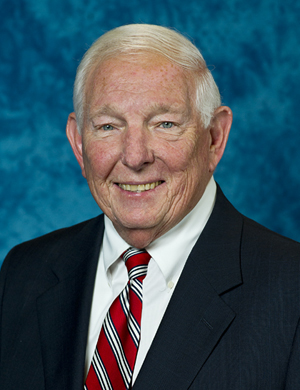 Councilman Donald F. Fracassi's parents moved to Southfield in 1947. He married Karen Fair, a Southfield High School graduate, and together they raised 6 children in Southfield.
Councilman Fracassi graduated from Cranbrook School in Bloomfield Hills, took night school classes at Lawrence Technological University, and attended the University of Detroit until 1957 when he opened his own business at the age of 21.
His Southfield political career spans over 38 years. He was first elected to the City Council in 1967 as one of the youngest ever to do so; elected Council President and Acting Mayor in 1969-1972; elected Mayor 1973-2001; returned to City Council in 2003, and as Acting Mayor in 2015.
Councilman Fracassi led the City of Southfield during its largest period of growth, 1967-2001. During these 38 years in which he served Southfield, he became one of Michigan's longest-serving Mayors, and played a major role in Southfield becoming one of the strongest economic communities in the State of Michigan.
Southfield was also noted during this period as one of the Nation's strongest and the most diverse communities and received the designation of an "All-American City" in 1979.
Mr. Fracassi's tireless enthusiasm to consistently improve the quality of life for the citizens of Southfield and Oakland County is still evident today. Through his 29 years of service as Southfield's Mayor, he successfully pioneered several positive initiatives that placed Southfield as an economic hub for Southeastern Michigan.
Some of his most impressive accomplishments are:
Implementing the first 911 Emergency System in Michigan;
Implementing one of the first Emergency Medical Service systems (EMS) and Paramedic programs in the United States in 1972;
Curb-side recycling;
Mayors for United Negro College Fund;
Founder of Eight Mile Boulevard Association;
Established Southfield as a "Smart Zone;"
Assisted in the first Senior Citizen developments (McDonnell Towers and Woodridge Apartments;)
Assisted in the development of the Burgh Site in 1976;
Negotiated the joint contract between Southfield, Japan and L.T.U. to build in Southfield the first composite bridge in the United States;
Nominated in 2002 as "Michiganian of the Year;"
Established the Downtown Development Authority;
Established East-West route for I-696 and its sound walls;
Awarded "White House Millennium Community" for Southfield in 2000;
Diversity Award; National Black Caucus;
Eccentric Newspaper's "News Maker of the Year;"
Jewish War Veteran's "Man of the Year;"
United Negro College Award;
Governor of Kentucky designation "Kentucky Colonel;"
Jewish War Veteran's "Brotherhood Award."